According to the trade knowledge, there are 43 containers on this special train, mainly containing shoes and hats, household goods, daily necessities Ceramic tile,Electrical apparatus,clothing, furniture, building materials, sanitary ware and other commodities, with a value of nearly 40 million yuan. The special train departs from Chongqing, exits through Alashankou, and finally arrives in Europe and other countries.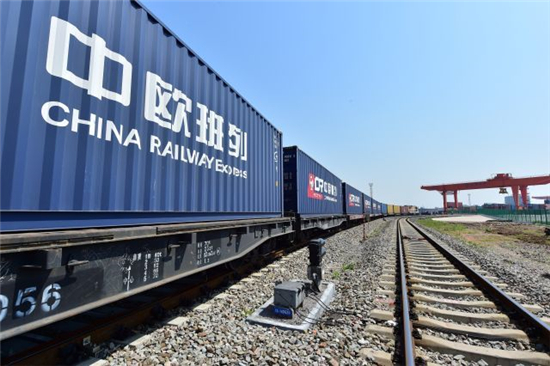 Image source network, if infringement, please delete
Different from previous cross-border e-commerce special trains, this is the first time that China-Europe Banlie (Chongqing New Europe) has opened a cross-border e-commerce B2B special train.
In August this year, the General Administration of Customs issued the "Announcement on Expanding the Pilot Scope of Enterprise-to-Enterprise Export Supervision in cross-border electronic commerce", which made it clear that from September 1, 12 directly affiliated customs such as Chongqing will be added to carry out the B2B export supervision pilot of cross-border e-commerce, and two export supervision codes of "9710" and "9810" will be added. Therefore, cross-border e-commerce enterprises have a special customs clearance method.
This is undoubtedly a great benefit for enterprises. The stable operation of China-Europe trains has met the needs of cross-border e-commerce logistics. Now, the cross-border e-commerce B2B export train runs smoothly in this channel, which further enriches the export routes of goods, improves the customs clearance efficiency of goods export and reduces the comprehensive cost of e-commerce enterprises.
The operation of this class will further promote the development of cross-border e-commerce in Chongqing. Data show that from January to August this year, China-Europe trains sent over 2,300 boxes of cross-border e-commerce goods, which effectively promoted the exchanges and cooperation in the cross-border e-commerce field among countries along the "the belt and road initiative". In the first half of this year, the total import and export volume of cross-border e-commerce in Chongqing increased by 27.2% year-on-year, making it a new bright spot in foreign trade.
Guangdong we all can import & Export Trading Co., Ltd. (hereinafter referred to as we all can trading) was founded in Foshan, Guangdong, one of the four famous ancient towns in China.
The business scope of We All Can Trading company includes selling the famous products of shiwan ceramics shunde household appliances, lecong furniture zhangcha knitwear and so on, which are produced locally in foshan, and helping customers all over the world to purchase products made in China locally in foshan.
Link to this article:
https://weallcan.com/news/1392